PassWord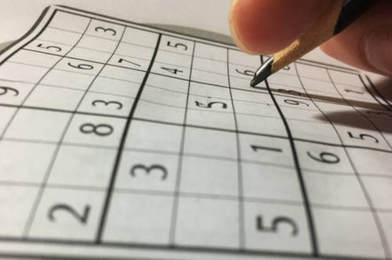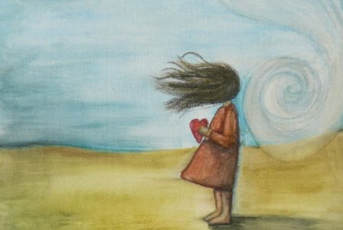 February 2, 2018
Cold. And getting colder. Windy....enough to knock your socks off. Brrr. Winter. I don't need a groundhog to tell me this.
So, according to Facebook, Jeff and I are celebrating 8 years of "friendship" this week. Considering how different we are, I think 8 years of friendship out of 43 years of marriage is actually pretty good. We have somehow managed to make five beautiful children together but there aren't too many common interests beyond that. Except....are you ready for this?... Drumroll, please......Sudoku. Yes, we share a love of Sudoku puzzles! Who knew? I buy the books at the dollar store for a buck a piece and somehow we have been able the last couple of years to share bathroom sudoku books. Of course, there are strict rules for this: (1) You NEVER mess with or finish the sudoku puzzle that the other has begun. And (2) Don't take the pen.
Jeff does two or three puzzles for one of mine, which doesn't mean he is smarter, but just that he spends longer in the bathroom. And he writes the possible answers in the corners before he figures out the real answers, which make his sudokus messy and confusing. Mine are much neater and I don't like to guess, but to reason them out. And I don't cheat. The answers are in the back, but I refuse to look. And no, I don't know if he cheats or not.
But sometimes I will be flying along filling in little squares or sometimes not really flying fast at all....and I will come to an impasse. Things aren't lining up right. Two of the same numbers somehow got put in the same row or there is nowhere to put the next 9 or something. And I used to get so frustrated and back up and try to find where I went wrong and undo things until my sudokus looked as messy as Jeff's.
And finally one day I came to my senses and said, "It's a game, Kim. The book – which has many puzzles – cost a dollar. Life is short. Move on." And so now, when things are so screwed up in my sudoku life that there is no fixing it, I don't try to. I write a big NO! beside the puzzle and carry on.
Don't misunderstand. I'm not a quitter. But I am thinking this morning about situations and systems that I have wasted too much time, too much effort, too much worry upon. Things that I probably can't fix. There are things that it might be better to allow to fall apart rather than continue to try to salvage. There is in fact, a time to write NO! and get on with the day.
So I think my prayer this morning is that God might give us wisdom to know those things worth salvaging and those whose worth has ended. And for the courage to respond accordingly.
Announcements
SWEETHEART BANQUET: Join us for a delicious meal & a fun night out on Saturday, February 10. Dinner begins at 6:00 and features appetizers, salad, NY strip roast, roasted potatoes, vegetable and of course dessert. The always popular, Not-so-Newlywed game will follow. Child care will be available. Tickets are $10 each. You can get them by calling the church office at (717) 944-9608 by Thursday Feb. 8 or in the church narthex on Sunday. Come with your sweetheart, come with your friends or come and make a new friend! 💕❤️
Calendar
Saturday, February 3rd. 8:00. Men's Breakfast. All men welcome. TODAY BREAKFAST IS IN THE OFFICE BUILDING.
Sunday, February 4th. Souper Bowl Sunday. Today we also celebrate Holy Communion. Sunday we will also look at The Gospel of John, chapter 1, "In The Beginning..."
Bring your non-perishables to benefit the Interfaith Food Pantry or give a monetary donation to the Food Bank.
Coffee Hour each Sunday at 9:00 with Sunday School beginning at 9:15
Also, if you bought soup or apple dumplings they are available for pickup on Saturday from 9:00-11:00 in the church kitchen or on Sunday between or after services.
Wednesday, February 7. Wednesday Night Live. Supper at 5:30, Class at 6:30. Bring a friend!
Saturday, February 10. 6:00 Sweetheart Banquet. Tickets on sale in the narthex each Sunday or you may call the church office to reserve yours. $10.00 Singles, Couples, and groups welcome. Child care provided -please mention if you are bringing children when you buy your ticket.
Wednesday, February 14. Ash Wednesday. 6:00-7:30. A come and go service of prayer and meditation. Holy Communion and the receiving of ashes available at the altar.
Friday, February 23. 6:00-7:30. If your child has been to VBS in the past – or even if they never have been to VBS in the past – they are invited to the VBS Reunion. A light supper, games, singing, Bible verses, are all part of what will be happening.
Click here
to sign up to be part of this fun night – its all free.
Sunday, February 25. Camp Sunday. Today our youth and their leaders will lead our worship. We thank God for Camp Yolijwa and the impact it has had on so many of our lives.
Prayer Items
Paul Burger
Kaye Riggleman
Wayne Shank
Helen Tilson
Our condolences to the family of Margaret Crumling. Margaret went home to be with the Lord on Wednesday of this week. Her services will be on Tuesday at Knights Funeral Home in Highspire.
Enough. Stay warm beloved. And may God give us wisdom.
Blessings,
Pastor Kim