PassWord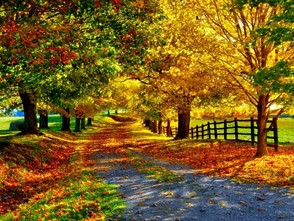 November 3, 2017
Dear PassWord People,
Sky lightening here...I saw a gorgeous sunset last evening as I headed to the West Shore. So red and clear and vibrant, achingly beautiful, startling in its intensity. God's beauty in fall is unsurpassed. 53 degrees in my backyard this morning.
I am tired. Not sleeping well - again. My father used to say, if you just put in a good day's work you would be able to sleep. Dad meant physical work, the kind that wearies the body. I need more physical work. Maybe less mental work, but definitely more physical work.
So I got a letter this week from my endocrinologist. He is leaving his practice to go into the world of academia. Good for him, bad for me. It took me a long time to even learn how to spell "endocrinologist", let alone find another one. And I actually liked him. And I don't have a family doctor anymore. Since my doctor in Middletown left his practice I never really looked for another one. Recently, I had to give Penn State permission to contact my family physician to see if I was healthy enough to lead an exercise class (yes, I know - stop laughing) and the practice told Penn State that they don't have a patient named Kimberly Shifler. Really? Thank you very much.
Maybe a month ago my one leg was giving me problems and I talked myself into thinking I had a blood clot. So I went to an urgent care. Well, that physician didn't even look at my leg. No joke. She looked at my back and said go get some therapy. And I leave and think to myself, I could have had a gunshot wound, a pimple gone bad, a cancerous hole, a torn ligament, who knows what...you at least look at where the patient says it hurts. I don't want a doctor who doesn't hear me. Sorry, rant over. And I don't have time for "therapy", thank you anyway.
So, I am doctorless and a little disillusioned and tired. (And yes, my leg still hurts.) And maybe a little grumpy on top of all of it (Can you tell?? Ha!) But, the sky has now lightened. The day is beautiful. The trees in my neighborhood are showing off their colors and the sun is now bright and visible. The day is filled with purpose and meaning and work to be done, even if it is not physical. And I will give all the doctor issues to God Himself, asking for Him to provide the right people in my life, in His time and in His way.
Father, this morning it feels like there are more questions than there are answers.And I am a little weary.But this I know: Your wisdom is greater than mineAnd You can be trusted with all of it. And this is enough. Thank you, Father.
Announcements:
New Class, meets at 9:15 in the triple room. We would love to have you join us for, This Changed Everything.
"2017 marks the 500th anniversary of the beginning of the Protestant Reformation. On October 31, 1517, an obscure German monk named Martin Luther published 95 theses for debate in Wittenberg, Germany. Little did he know that this act would ignite a revolution that would reshape the Christian church and change Western civilization forever." Meeting for 14 weeks, this class will provide opportunity for discussion of both history and faith.
Operation Christmas Child We will once again be participating in Operation Christmas Child by filling shoeboxes. You can pick up a pamphlet in the narthex which will also include your label for the box. If you have never filled a shoebox, we encourage you to try one this year! All the instructions are in the pamphlet along with ideas for filling your box. An important announcement this year from Operation Christmas Child is that we can no longer include toothpaste or any kind of candy in the boxes. Toothbrushes are still acceptable. Currently we do not need any additional empty shoeboxes. We have some standard boxes customized for Operation Christmas Child that you can use – these do not need wrapped, or feel free to use your own empty shoebox – which you may wrap if you desire. Collection date is Sunday, November 12th. If you have questions, please see Cindy Hofsass. And on behalf of the kids, thank you.
PIES, PIES, PIES.
Orders are being taken for pumpkin, apple or pecan pies for Thanksgiving. Cost is $10.00 each and will be ready for pick up on Wednesday, November 22, Noon to 6:00 or by special arrangement. All orders due by Sunday, November 19th. Pie money benefits our annual youth retreat. You can order your pies by signing up in the narthex, calling the church office at 717-944-9608, or emailing Pastor Kim at
kbshifler@comcast.net
Thank you.
CHRISTMAS CRAFT/GIFT SHOW
Saturday December 9 from 8am-2pm. There will also be baked goods, white elephant and silent auction area to benefit our church. The spaces are 4' x 8' and are available for $25.00. Tables will be available to rent for $5.00. The kitchen will be open for breakfast and lunch. If you would like to rent a space, donate items for the white elephant sale, donate silent auction items or help by setting up Friday evening, cleaning up after the show, working in the kitchen, donating baked goods or working the churches areas please contact Ann Flury at (717) 395-0648 or by email at
amhipple@comcast.net
. Craft Show applications will also be available in the narthex.
Calendar:
Saturday, November 4. 8:00 Men's Breakfast (and today women, also!) Fall Clean Up Day, #1. If you can help around the grounds for an hour or a morning it would be appreciated.
Sunday, November 5. Worship at 8:00 and 10:30. "Sola Scriptura". Today we continue our sermon series on key points of the Protestant Reformation. Amy Howarth and Kids' Choir are both singing today!
Sunday School classes have resumed. They meet at 9:15. And coffee hour is back!
Sunday, November 5. 9:15. "This Changed Everything", a 14 week study of the Reformation. Triple room, everyone welcome. See announcement above. Frog Pond today for all elementary students during the 10:30 service. Come to worship and you will be dismissed to Frog Pond early in the service.
Wednesday, November 8. Wednesday Night Live. Supper at 5:30, Class at 6:30.
T
hursday, November 9. 6:00 pm Pasta & Prayer.
Thursday, November 9. 6:00-8:00 Sunshiners. For people with special needs, the Sunshiners provide spiritual nourishment in fellowship with others.
Sunday, November 12. Congregational Meeting with luncheon. Please sign up in the narthex or call the church office. All welcome. Shoeboxes due back today. See announcement above.
Saturday, November 18. 8:00-12:00 Fall Clean Up Day #2
Sunday, November 19. Thanksgiving Sunday. Today we collect non perishables for the Middletown Food Pantry. Travis Helm, assistant director of Cross Cultural Ministries will be sharing with us today.
Sunday, November 19 Pie Orders Due
Wednesday, November 22 NO WNL. Pick up Pies.
Thursday, November 23. Happy Thanksgiving
Thursday, November 30 Pre-Decorating Party for Hanging of the Greens. 6:00
December 3. Hanging of the Greens
Prayer Requests:
Louise Carl, Carlisle Hospital
Enough. The time changes this weekend. And this always confuses me. But I think you gain an hour's sleep this week. And if I am wrong you will miss church. But this week you can blame it on me:)
Blessings,
Pastor Kim